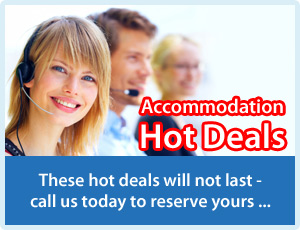 Adelaide Accommodation
Looking for Adelaide accommodation? You will find a selection of some of the best hotel, resort and apartment accommodation in Adelaide, South Australia. Affordable and discounted Adelaide accommodation available here. Check Out Our Latest Accommodation Hot Deals we have put together ... Make your selection from the number of hot accommodation deals for Adelaide below. These deals have limited availability, so don't miss out, CONTACT US NOW!!!
Call our reservation centre on 1300 684 512 today.



Contact one of our friendly customer service representatives on 1300 684 512.
Our customer service centre is open between 9.00am - 7.00pm Monday to Friday and 10.00am - 5.00pm Saturday (est).
Discover South Australia provides you the service of being able to book directly with the accommodation provider.
All reservations made through this website or through our call centre are done directly with the property with real time availability.


Adelaide CBD

BreakFree Adelaide
255 Hindley Street, Adelaide SA 5000
Located in Adelaide's thriving West End, an emerging arts district offering unique theatres, restaurants and entertainment, BreakFree Adelaide is just five minutes walk from the CBD, Rundle Mall shopping, Adelaide Convention Centre and Casino.


Call: 1300 783 399 to enquire or book

iStay Precinct
185 Morphett Street, Adelaide SA 5000
iStay Precinct (formerly Oaks Precinct) offers urban and contemporary accommodation in the Adelaide CBD. Conveniently located in close proximity to a bustling hub of attractions, stroll to the myriad of entertainment venues, cocktail bars, restaurants and shopping destinations.

more info

From $113 per night




Call: 1300 783 399 to enquire or book

Oaks Horizons
104 North Terrace, Adelaide SA 5000
Located opposite the Adelaide Convention Centre in the heart of the CBD, Oaks Horizons offers spacious one and two bedroom apartments. North Terrace is home to the city's major attractions, including Parliament House, Government House, Museum and Art Gallery.

more info

From $132 per night




Call: 1300 783 399 to enquire or book

The Playford Adelaide MGallery Collection
120 North Terrace, Adelaide SA 5000
The Playford Adelaide MGallery Collection is a 5 star hotel set in the heart of the city's vibrant North Terrace, opposite the Convention Centre and City Casino. Festival Theatre, Parliament House, central business district and major shopping and restaurant precincts are within walking distance.


Call: 1300 783 399 to enquire or book
Chifley on South Terrace
226 South Terrace, Adelaide SA 5000
Chifley Hotel on South Terrace Adelaide is an ideal venue, conveniently located on the perimeter of the Adelaide CBD, opposite the tranquil and picturesque South Parklands and a short walk to Adelaide city centre.
Oaks Embassy Adelaide
96 North Terrace, Adelaide SA 5000
Perfectly located on North Terrace in the heart of the CBD and opposite the Adelaide Convention Centre, Oaks Embassy offers contemporary one, two and three bedroom spacious apartments. North Terrace is populated with a myriad of attractions and is the pulsing heart of Adelaide.

more info

From $127 per night

Sage Hotel Adelaide
208 South Terrace, Adelaide SA 5000
Sage Hotel Adelaide is a superior quality hotel overlooking the picturesque South Parklands. Located on the Southern fringe of the CBD, guests have the luxury of staying within the CBD whilst enjoying the relaxing tranquillity of the parklands opposite.
| | |
| --- | --- |
| BreakFree Directors Studios, 259 Gouger Street, Adelaide SA 5000 | more info |
| Hilton Adelaide, 233 Victoria Square, Adelaide SA 5000 | more info |
| ibis Adelaide, 122 Grenfell Street, Adelaide SA 5000 | more info |
| Mantra Hindmarsh Square, 55-67 Hindmarsh Square, Adelaide SA 5000 | more info |
| Mantra on Frome, 88 Frome Street, Adelaide SA 5000 | more info |
| Peppers Waymouth Hotel, 55 Waymouth Street, Adelaide SA 5000 | more info |
| Rockford Adelaide Hotel, 164 Hindley Street, Adelaide SA 5000 | more info |